Netmarble Corporate Profile
About Netmarble

● Date of Establishment: March, 2000
● Headquarters: Seoul, Korea
● Co-CEOs: Young-sig Kwon, Seungwon Lee
● Number of employees: over 6,000 (including those in Korea and abroad)
● Vision: Great Game Culture Company
● Mission: We entertain the world with fun games
● Global Branches: Total of 7- North America, China, Japan, Taiwan, Thailand, Indonesia, Turkey
● Major Partner Companies: CJ ENM, Tencent, NCsoft

Established in Korea in 2000, Netmarble Corporation is a top developer and publisher pushing the boundaries of the mobile gaming experience with highly innovative games including Lineage 2: Revolution, The Seven Deadly Sins: Grand Cross, Blade&Soul Revolution and MARVEL Future Fight. As a parent company of Kabam, and a major shareholder of Jam City and Big Hit Entertainment, Netmarble strives to entertain audiences around the world with a variety of mobile games based on its powerful franchises and collaborations with IP holders worldwide. With more than 6,000 employees, Netmarble has been producing and servicing some of the most successful mobile games including Lineage 2: Revolution, Blade&Soul Revolution, MARVEL Future Fight, A3: Still Alive, BTS WORLD, The Seven Deadly Sins: Grand Cross, The King of Fighters ALLSTAR, and Seven Knights. As a parent company to Kabam, a top mobile game developer in massively multiplayer free-to-play games, the largest shareholder to Jam City, a leading casual social game developer and a major shareholder of BigHit Entertainment, a music production, artist management and publishing company,, Asia's largest entertainment company, Tencent Holdings, Asia's largest internet company, and NCsoft, a prominent MMORPG company. More information can be found at http://company.netmarble.com

■ Driving forward for its global expansion In the process of becoming a leading mobile game company, there have been big changes in the business.
- Oct. 2014: Received an investment of USD 503 million from Tencent and becomes
independent from CJ
- Feb. 2015: Entered into strategic partnership with NCsoft with numerous and famous online MMORPG titles and secured various IPs that could be re-created into mobile games
- Jul. 2015: Acquired Jam City (previously SGN), a mobile game developer based in
the U.S., for USD 130 million and becomes the biggest shareholder
- Feb. 2017: Completed the acquisition of Kabam's Vancouver Studio, which makes MARVEL Contest of Champions, a consistent performer on the App Store and Google Play's top grossing charts

■ Debuts on the securities market Netmarble officially went public, listing on Korea's main bourse KOSPI in May 2017. With the new funds raised by the IPO, Netmarble is planning to make investment in larger strategic mergers and acquisitions to drive forward its global expansion and widen its business portfolio. As a leader of South Korean gaming market, the market cap alone amounts to USD 6.8 billion, as for the year ended December 31, 2019
Netmarble's growth is continuous. The company is leaping to become a global game company based on its unique development and operating capabilities that distinguishes from the competitors. Performance from overseas markets are on the rise every year, with more than half of the total revenues being generated from overseas markets in 2019.
Key Figures

■ 2020 Q2 Financial Results - A total of 568 million USD in sales - An operating profit of USD 17.1 million

■ Revenue Breakdown by Genre (based on 2019 Q4 results) - RPG 37% - Casual 27% - MMORPG 25% - Others 11%

Major Global Titles





The Seven Deadly Sins: Grand Cross

Genre: Turn-based Adventure Mobile RPG Developer: Netmarble Fun
Release date: June, 2019(Kor/Jap) / March, 2020(Global) Features/Achievements:
- The Seven Deadly Sins: Grand Cross is a turn-based adventure mobile RPG based on a Japanese popular anime IP, The Seven Deadly Sins by Nakaba Suzuki. - The game features stunning, high-resolution 3D graphics and over 100 dramatic cut scenes, and is brought to life with the cast of the original Japanese voice actors reprising their characters.
- Players can select from a wide roster of heroes from the series to build their very own team and combine cards and characters for special moves and extensive interaction with the main The Seven Deadly Sins team.

HISTORY (Release & Ranking):
- June 2019: The Seven Deadly Sins: Grand Cross made a huge success in Korea and Japan since its first launch in June, 2019. - March 2020: It extended its success to the global market with 3 million global downloads since March 3, and also reached top 10 of download charts on iOS platform in 62 countries in the first week.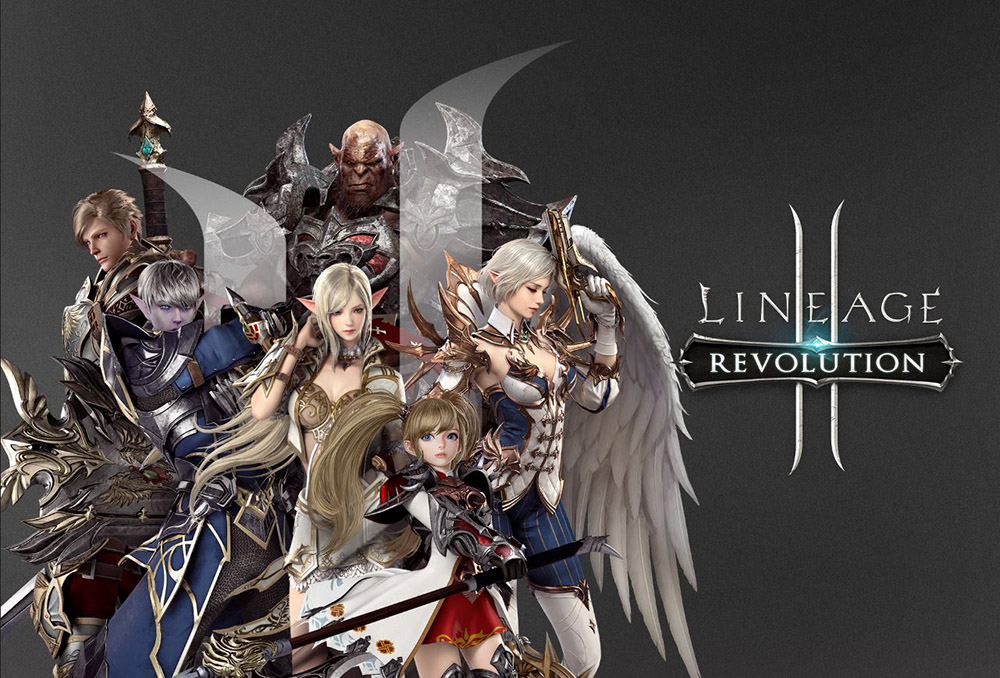 Lineage 2: Revolution

Genre: MMORPG
Developer: Netmarble Neo
Release Date:
- December 2016 (Korea)
- June 2017 (11 Asian countries including Thailand, Hong Kong, and Singapore)
- August 2017 (Japan)
- November 2017 (Western region including 54 countries in US, Europe, Oceania and The Middle East)
- March 2018 (Indonesia) - May 2018 (38 Latin American countries)

Features/Achievements:
- Lineage 2: Revolution is a MMORPG (Massively Multiplayer Online Role-Playing Game) based on the IP of 'Lineage', a globally popular PC online game title that has seen 30 million players. It features exciting real-time, open-field battles, along with industry leading graphics utilizing Unreal Engine 4.
- Lineage 2: Revolution surprised the local and global market industry watchers with its first month revenue of USD 176 million in Korea alone (2016.12.16- 2017.1.13) and generated USD 924 million in its first 11 months of release.
- Lineage 2: Revolution was named the Top Grossing Game on Google Play in 2017 (IDC & App Annie, 2017)
- Named as Google Play's 'Best Game of 2017' in South Korea and five other Asian countries (Dec, 2017).
- Lineage 2: Revolution was named the 8th game among the Top Games by All-Time Worldwide Consumer Spend ('The Data Behind 10 Years of Google Play', App Annie, 2018)

HISTORY (Release & Ranking):
- Dec. 14, 2016: Lineage 2 Revolution launched in Korea and becomes 1st on Apple App Store top grossing game in 8 hours.
- Dec. 16, 2016: Ranked 1st in the top grossing chart on both Google Play and Apple App Store.
- Jun. 14, 2017: Launches in 11 countries across Asia and becomes the top grossing game on 6 of the Asian territories (Taiwan, Thailand, Hong Kong, Singapore, Philippines, and Macau).
- Aug. 23, 2017: Launches in Japan and becomes 1st on top grossing game on Apple App Store in Japan in just 18 hours.
- Nov. 15, 2017: Launches in 54 countries across North America, Europe, Oceania, and the Middle East.
- May. 10, 2018: Launches in 38 Latin American countries and becomes 3rd on top grossing game on App Store in Brazil in two weeks.
Registered Users (Global) (Last updated: August, 2019):
- Accumulated more than 30 million players around the world
- 5 million monthly active user (MAR) worldwide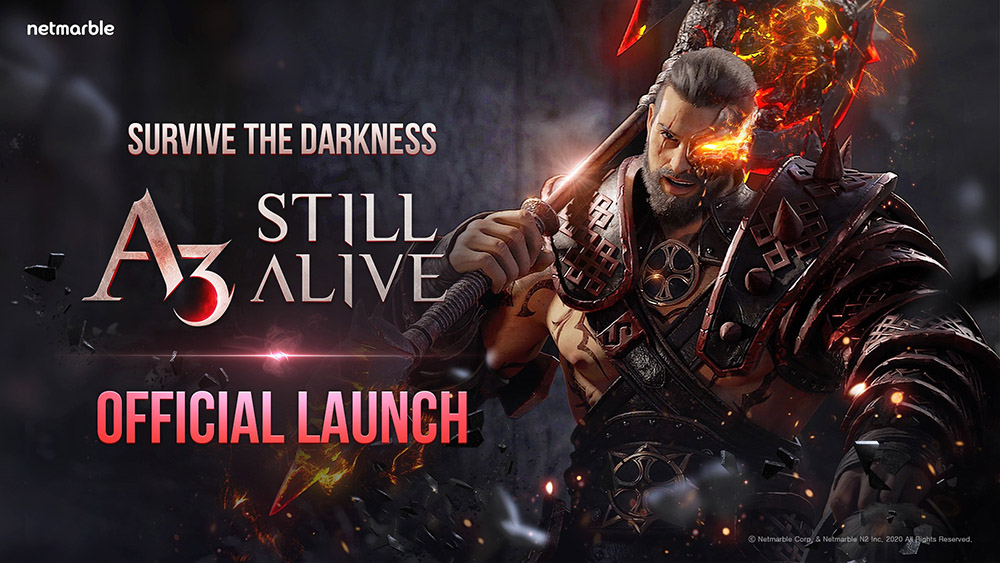 A3: STILL ALIVE

A3: STILL ALIVE is the all-new Dark Fantasy Open World Mobile RPG of Netmarble Corp. It features a cross-genre mobile experience that pairs the enormous and living worlds of Open-World RPGs with the extreme combat of Battle Royale. Set in an apocalyptic fantasy world of swords and sorcery, players must be vigilant in an always-open Player vs. Player (PvP) environment as they fight against enemies with intense hack & slash combat in the search for powerful gear.

Players can prove their mettle with a variety of PvP and Player vs. Everyone (PvE) engagements including, Conquest, Raid, Dark Presence and World Boss content. To complement the extreme combat, A3: STILL ALIVE is beautifully rendered with console-quality 3D graphics that are brought to life thanks to the outstanding optimization of the Unity Engine.

In A3: STILL ALIVE, players can look forward to the following:
• Five Powerful Class Types, ranging from Berserkers (Physical Melee DPS), Templars (Magical / Physical Tank), and Wizards (Magical Ranged DPS) to Assassins (Physical DPS) and Archers (Ranged DPS).
• A Seamless Blend of Battle Royale Mechanics and Open-World Exploration, allowing players to grow their Hero through active Battle Royale matches while auto-batting in the field, with a variety of high-level equipment to collect across both modes.
• Over 201 Soul Linkers, unique characters that offer various benefits and are capable of actively accompanying the player to battle, to collect, train, and counter enemy and boss tactics.
• In addition to an always-open PvP environment, players can compete in Dark Presence, a field-based 100 vs. 100 large scale battle that takes place across all servers, where an endless range of strategies and cooperation between factions are needed for players to rise to be the strongest warrior of them all.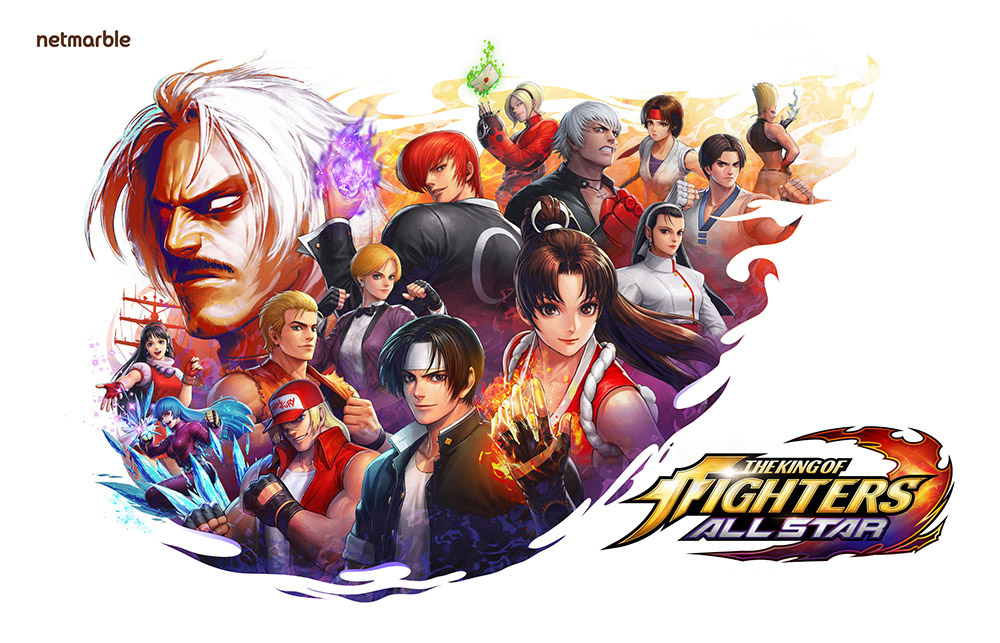 THE KING OF FIGHTERS ALLSTAR

Genre: Mobile Character Collecting Action RPG
Developer: Netmarble Neo
Release date: October, 2019
Features/Achievements:
- The King of Fighters Allstar is a character collecting action RPG with an exciting
combat system and industry-leading graphics. - It's the first title to utilize an entire collection of KOF from '94 to XIV's. In
addition to the traditional characters from the KOF series, players can also play a variety of remastered and newly designed characters in The King of Fighters Allstar. - The King of Fighters Allstar's content utilizes a battle system that allows
players to freely tag between three fighters in a team. Complex combos can be easily executed, which normally requires a high level of skill in an arcade setting, by using simple controls that are optimized to mobile devices.

HISTORY (Release & Ranking):
- October 2019: Released in over 170 nations around the world in October 2019 and ranked Top 10 Download chart in 49 global countries including North America and Taiwan within a week after launch. It' total downloads within the first 7 days are over 5 million.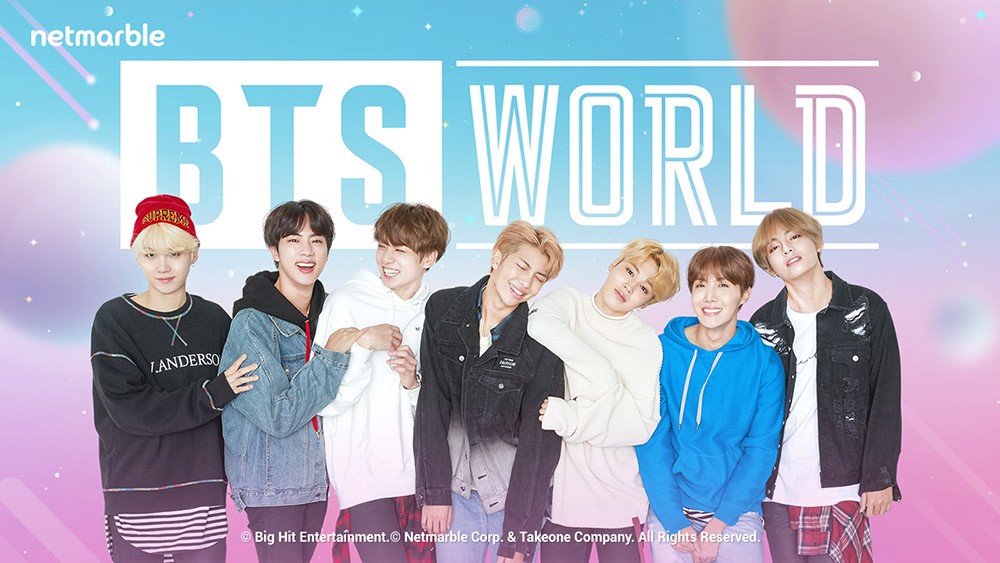 BTS WORLD

Genre: Story Based Simulation Game
Developer: Takeone Company
Release date: June, 2019
Features/Achievements:
- BTS World is storytelling game, where the player becomes BTS's manager to help the group develop from trainees into superstars.
- BTS World is an easily approachable game where BTS Member cards are collected, leveled up to move onto the next stage. Stages consist of stories, missions, and videos.
- BTS world is re-imaged through vast, solid scenarios written by a professional writing team. Game consist of diverse stories of the group called 'BTS Story' and individual member stories called 'Another Story'.
- There is 1:1 interaction with the BTS members through the 'mobile' content. Affinity is increased through stage progression and card leveling. Player choices will affect how the BTS members react and affinity affects interaction with the members.

HISTORY (Release & Ranking):
- June 2019: Simultaneously released in 176 nations around the world in June
2019 and ranked No. 1 in 52 countries including Korea, US and Japan, and Top 10 in 127 nations right after the release.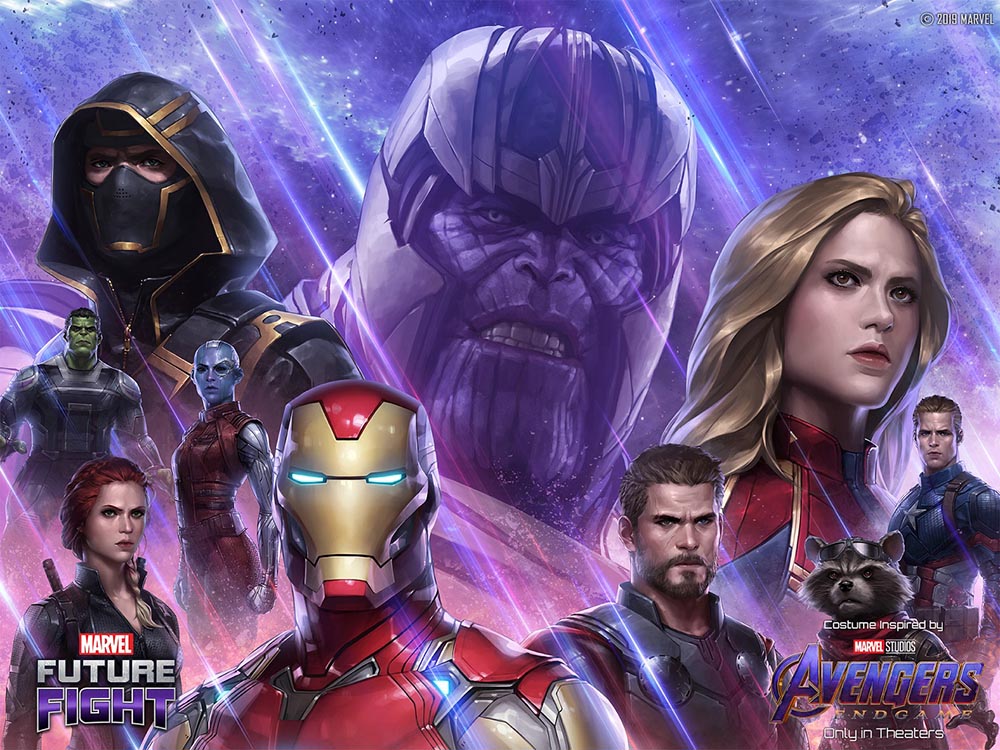 MARVEL Future Fight

Genre: Action RPG
Developer: Netmarble Monster
Release Date: April, 2015
Features/Achievements:
- An epic blockbuster action
-RPG that invites the players to fight against enemies such as Loki, Dr. Octopus, Ultron by forming his or her own team with Marvel Super Hero such as Iron Man, Captain America, Spider-Man and Thor.
- Over 200 Marvel characters updated so far and evaluated as the best mobile game to bring Marvel Comics IP to the gaming screen
- Various domestic and global achievements

HISTORY (Release & Ranking):
- April 2015: Simultaneously released in 148 nations around the world in April 2015 and ranked Top 10 in 118 nations, including Korea, Taiwan, US, and UK right after the release
- May 2015: Surpassed 20 million downloads worldwide in 2 week since its launch
- Dec 2015: Awarded as the 'Google's Best Game of 2015'
- May 2016: Surpassed 40 million downloads worldwide
- July 2017: Surpassed 60 million downloads worldwide
- May 2018: Surpassed 80 million downloads worldwide
- Feb 2019: Accumulated revenue over USD 400 million
- Apr 2019: Surpassed 100 million downloads worldwide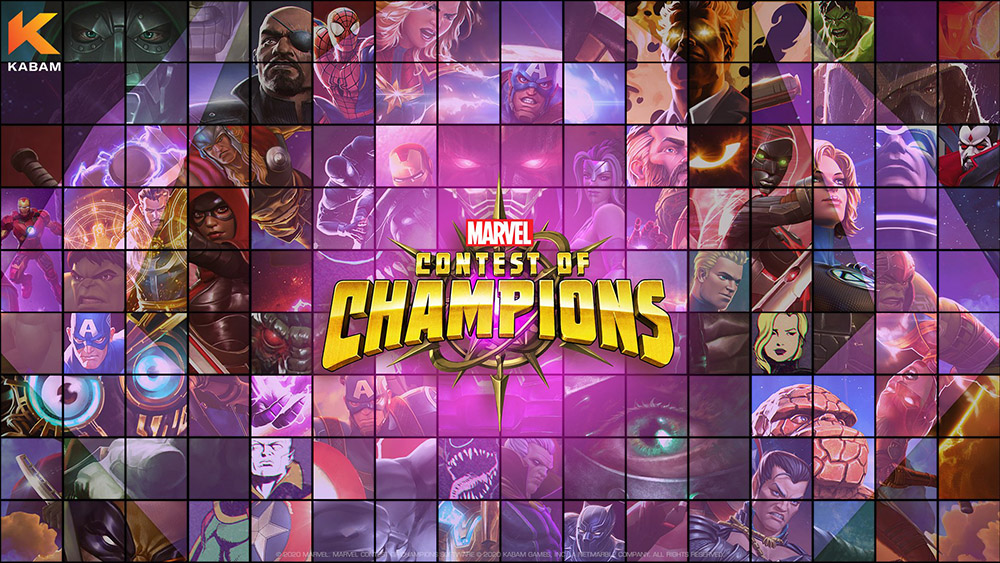 MARVEL Contest of Champions

Genre: RPG
Developer: Kabam's Vancouver studio
Release date: December, 2014
Features/Achievements:
- An action role-playing game where players assemble a mighty team of heroes and villains (choosing Champions such as: Iron Man, Hulk, Wolverine, Spider- Man, Deadpool etc.)
- Players can also embark on quests to defeat Kang and Thanos and face the challenge of a mysterious new super powerful cosmic competitor, ultimately to prevent total destruction of the Marvel Universe. The game continues to show new contents tailored to the needs of its users and are consistently loved by its fans.
- Surpassed over 215 million players worldwide with over 2.8 billion hours played in total.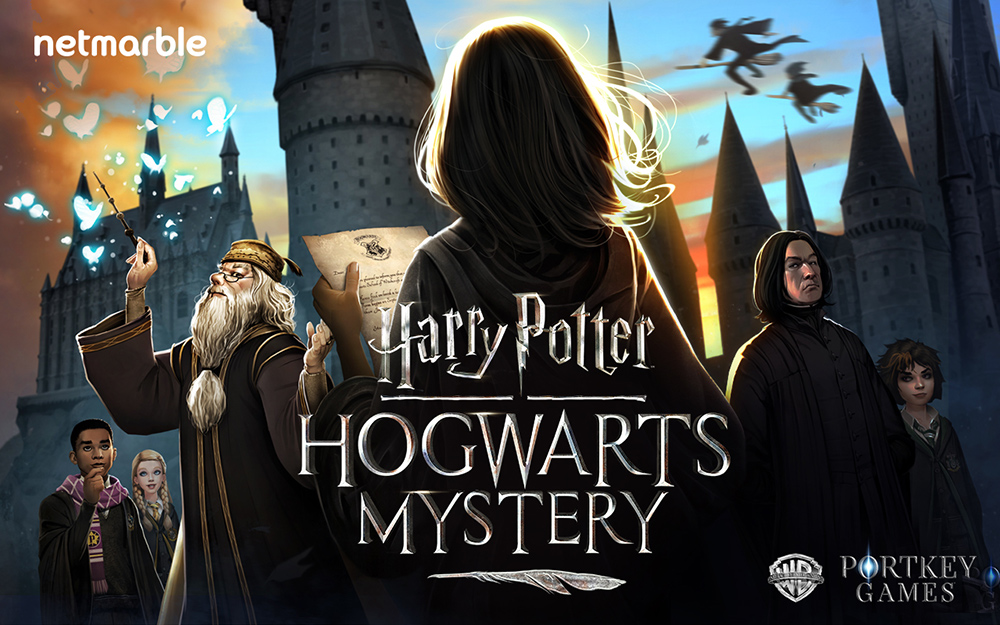 Harry Potter: Hogwarts Mystery

Genre: Adventure RPG
Developer: Jam City
Release date: April, 2018
Features/Achievements:
- Harry Potter: Hogwarts Mystery is the first mobile game where players can create their own character and experience life as a Hogwarts student.
- In the narrative adventure with RPG elements, players will create a personalized student avatar, attend classes, learn magical skills, and form friendships or rivalries with other students. In the game, players make pivotal decisions that influence their character's story arc at Hogwarts.

Netmarble's Upcoming Line up of Games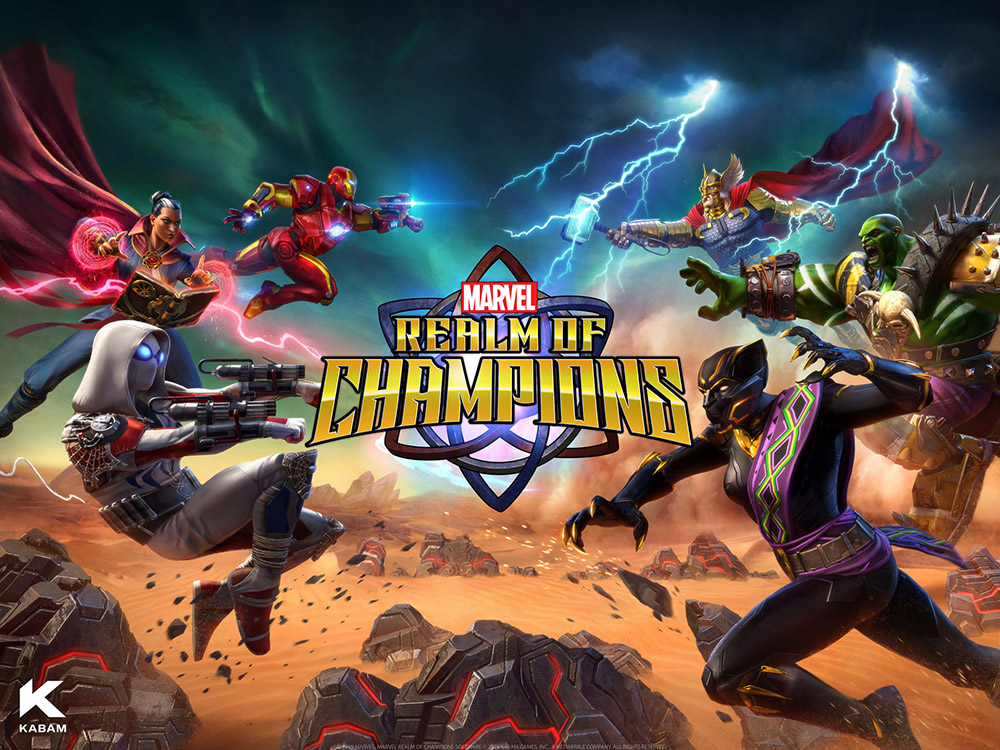 MARVEL Realm of Champions - Kabam

MARVEL Realm of Champions is the second collaboration of Kabam and Marvel Entertainment. Developed as a real-time mobile RPG for longtime Marvel fans and enthusiastic mobile gamers, players will align with Marvel-inspired factions known as 'Houses', and team up with friends for real-time action arena combat against enemies and other players as part of an epic war of global proportions in the Battleworld.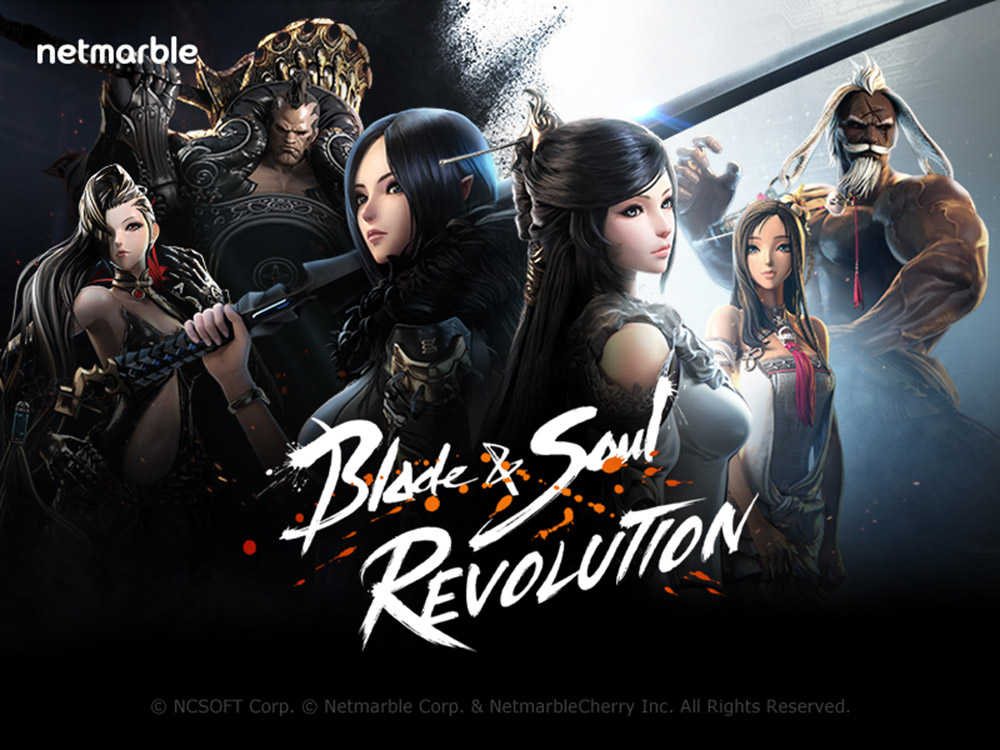 Blade & Soul Revolution

Blade & Soul Revolution is a mobile MMORPG based on the popular PC online game 'Blade & Soul'. The game stays true to its PC roots with high level of full 3D graphics, and large-scale content and worldview that has been revamped to perform flawlessly on mobile devices. Just like with the original game, Blade & Soul Revolution displays eastern-style fantasy world with stunning graphics backed by the Unreal Engine 4.

Recent Corporate News
■ Netmarble to appoint Seungwon Lee as new co-CEO (Jan 13, 2020)
- Netmarble announced that it has nominated Seungwon Lee, currently the Chief Global Officer, as the new co-CEO of the company.
- Based on the nomination, Lee and the incumbent CEO, Young-sig Kwon, will be co-CEOs leading the company. Kwon will focus primarily on Netmarble's game business and Lee will head the company's overall management and global operations.
- Lee's new appointment as co-CEO comes as the company continues to strengthen its competitiveness within its core games business and further expand its global operations.
- Lee, a graduate of Seoul National University and a Master of Business Administration at INSEAD, previously served as Head of Korea Marketing for Yahoo from 2005 to 2006. Since 2007, he served as Vice President of Corporate Strategy at Netmarble Games (formerly CJ Internet) and as Senior Vice President of Global Strategy at Netmarble Games (formerly CJ ENM Game Division). As Chief Global Officer, Lee has been leading Netmarble's overall global business since 2014, contributing to Netmarble's successful expansion to global market.

■ Top 6 Global Mobile Game Publisher (Mar 27, 2020)
- According to data released by the mobile app market analysis site, App Annie, Netmarble game sales were 6th in the App Store and Google Play in 2019, following Tencent, NetEase, Activision Blizzard, Supercell, and Bandai Namco.
- Netmarble, which placed first in App Annie top 52 publishers in 2015, has consistently been featured within the top 10 publishers in the global mobile game market for five years in a row, including today's 2019 sales ranking announcement.